 The Eyes Cannot See Themselves
Sham is president of his two companies; LIFE Consulting LLC focuses on business management, and TriVision LLC focuses on scientific issues.
His number one theme in all enterprises is minimizing waste and striving to do things correctly the first time. He stresses that people should never make the same mistake twice (or more) in life and business and use mishaps as teaching moments.
Sham believes that the world should have a major focus on sustainability, "It is our human responsibility to treat our environment with respect." He not only preaches sustainability; he lives that way. As a farmer, he seeks global solutions to grow food in such a manner. He consults with companies that share such a vision and brings solutions to their desires to do so.
He consults and teaches employees at all levels about being more responsible. And about how an enterprise can best represent its products and services to its customers. He discusses the science and the art of gaining better customers and how a company can help their customers more easily identify with and buy their products and services. He emphasizes the dangers of overpromising and underdelivering. He delves into problems large and small; the cost of shipping the wrong products, products arriving late, and other issues.
Corporate management is a complicated business. Sham strives to simplify that process and help companies and their employees migrate towards higher thinking, operations, and competitive advantage over their major competitors. Read Sham's Biography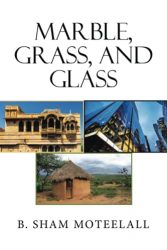 Marble, Grass, and Glass delves into the lives of various East Indian indentured servants bound to British sugar plantations in the Caribbean between 1838 and 1917.