New book delves into the lives of various East Indian indentured servants between 1838 and 1917
Sham Moteelall announces the release of 'Marble, Grass, and Glass'
COLOGNE, Minn. – B. Sham Moteelall, a Guyanese by birth immigrated to the United States alone over 50 years ago to attend college. He has always been curious about his ancestral migrations. Because of such curiosity, some 40 years ago, he embarked upon a preliminary search to gather further detailed information on this subject.
In "Marble, Grass, and Glass" (published by Xlibris) Moteelall delves into the lives of various East Indian indentured servants bound to British sugar plantations in the Caribbean between 1838 and 1917. During that period, some 1.2 million Indians embarked into a contractual agreement to work for a specified period at those establishments. Many were lured with false promises that resulted in an atrocious system that undermined human dignity. People came under a servitude process that resulted in a system that replaced, redefined and re-invented slavery. That system determined that not all people were created equally and the establishments treated them like chattel.
This reflection focuses on the country of Guyana. It progressively talks about ancestors who endured the severity of plantation life and the abuses associated with their daily lives. Those people suffered tremendous hardships. Some died while still bound to the estates leaving orphans behind. Many endured, survived and prospered. This is their story.
"The world does not have a comprehensive understanding of what happened in Guyana It took me 40 years of investigating to put this narrative together and tell the story that evolved over 100 years. It demonstrates that neither good time nor bad times last forever. It shows what can be possible with dreams and determination coupled with hard and smart working," Moteelall says. When asked what he wants readers to take away from the book, he answers, "My hope is that you will find this writing interesting regardless of your ethnic background. It creates clarification and an understanding of what really happened to the 1.2 million (or more) Indians around the world placed in a glorified system of slavery to enrich the British planters."
"Marble, Grass, and Glass"
By B. Sham Moteelall
Hardcover | 6 x 9in | 350 pages | ISBN 9781664189478
Softcover | 6 x 9in | 350 pages | ISBN 9781664184732
E-Book | 350 pages | ISBN 9781664184725
Available at Amazon and Barnes & Noble
About the Author
Sham Moteelall was born and grew up on a family farm in Colonial British Guiana, South America. His ancestors emigrated there from India to work on British sugar plantations. He became a science teacher and in 1970, with $200, he emigrated alone to the United States of America to attend college. He is now an agronomist and soil scientist and spent over 40 years working for major global corporations. Currently, he lives with his wife on their Minnesota farm, from where he manages his consulting business, LIFE Consulting LLC. His focus is on promoting a wholistic approach to sustainability and on global environmental concern. Apart from writing, business, teaching and farming, Moteelall is a motivational speaker. His messages not only focus on business issues, they include helping people at various levels to become the best they can be and to strive towards excellence for themselves, their families and their careers.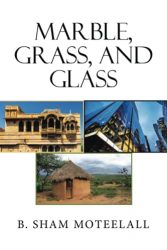 Marble, Grass, and Glass delves into the lives of various East Indian indentured servants bound to British sugar plantations in the Caribbean between 1838 and 1917.